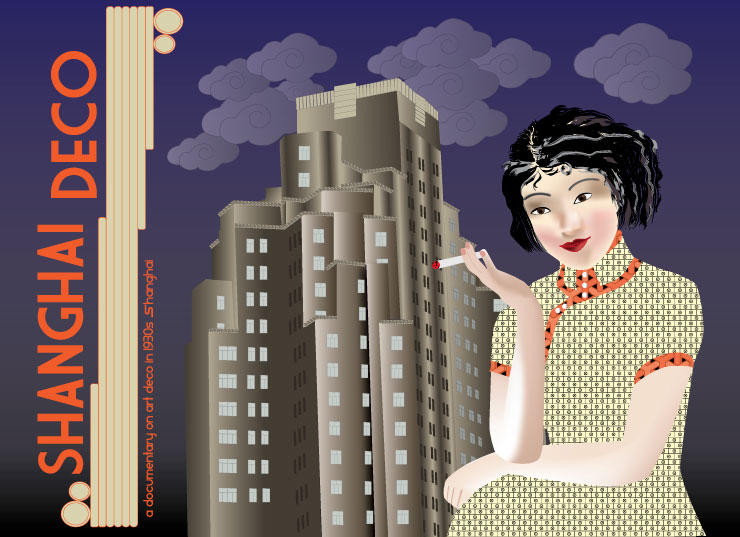 About the Film
Shanghai Deco is a one-hour documentary on the Art Deco design style popular in 1930s Shanghai. During the 1920s and 30s, Shanghai was the most glamorous, cosmopolitan city in Asia. Dubbed "The Paris of the East," it had both an expatriate community and a middle-class Chinese population that adopted many of the trappings of Western lifestyle: jazz, dancing, and nightclubs, as well as Art Deco design. The film focuses on the contributions of the Chinese designers and the problems of artistic repression in times of war and political upheaval, as well as the factors that led up to the adoption and eventual demise of Shanghai's Art Deco lifestyle.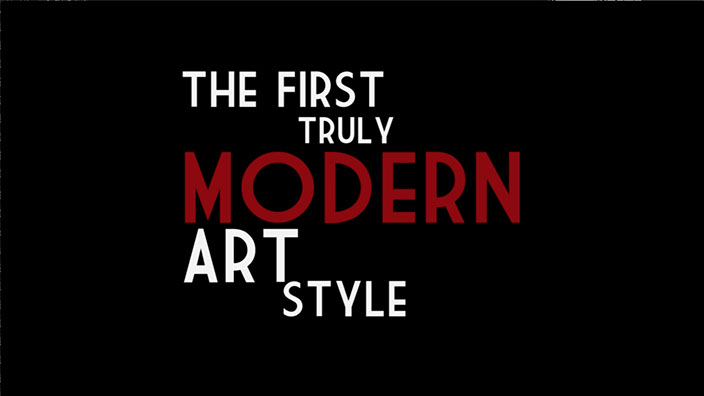 Shanghai History
Designated as a treaty port after the Opium Wars in the mid-19th century, Shanghai opened to foreign trade, triggering an influx of Westerners. Joining a thriving community of Iraqi Jews who had been resident in the city since the mid-1800s, White Russians fleeing from the Bolshevik Revolution, Jews fleeing the Nazis, and upwardly-mobile Chinese immigrants displaced by the Taiping rebellion, they spawned a unique culture boasting such trappings of modernity as jazz, nightclubs, amusement parks, and a thriving art scene. The city became known as "The Pearl of the Orient," and gave birth to a short-lived form of Art Deco design know as Haipai.
Many of the women found new independence from strict family rules and became "flappers," modern girls who smoked, dressed to the nines, and mixed openly with the foreigners who flocked to the city. These fashionistas were both the faces on the ads and the consumers of a barrage of modern, glamorous products that were produced in Shanghai just weeks after similar designs were launched in Paris.
In China's recent rush to modernize, much of the Art Deco architecture has been razed to make way for new structures and most of the building interiors have been gutted. A group of Shanghainese, many ex-patriates, have formed Historic Shanghai, a Preservation Society meant to preserve Art Deco art and design in the city today. Historic Shanghai was founded in 1998 by Tess Johnston, Patrick Cranley & Tina Kanagaratnam with the goal of raising awareness of Shanghai's architectural heritage and social and cultural history. The city's unique history – the flamboyant years of the Concession era, followed by the Communist victory which punished those associated with it – has meant that much of its history has been deliberately neglected or forgotten. Historic Shanghai's research and collection of books, directories, maps, interviews and photographs helps to piece together the story of this remarkable city.
If you are interested in visiting Shanghai or finding our more about its Art Deco Heritage, the best place to start is on the website Historic Shanghai.
Screenings and Awards
Premiere! Includes panel discussion after screening. One Night ONLY.
Palace of Fine Arts, Thursday, June 29th, 7pm
Tickets: Earlybird $15, General $20 buy here
The film screening will be followed by a panel discussion with; film director Denise Richards , ADSC Preservation Director and journalist Therese Poletti ,journalist Maureen Fan , whose grandfather is a featured architect in the film, Leah Garrick , a 4th-generation Shanghailander, and Shan Shan Sheng , an artist and sculptor who grew up in Shanghai and appears in the film.
Director's Statement
As a graphic designer, I recognized immediately that Art Deco in Shanghai was not a replication of the Western design, but rather a unique style in its incorporation of traditional Chinese elements such as stylized clouds, waves, and coins.
Since China was closed to the outside world for so long, I thought it vital that this very short period of design history, and China's contribution to it, be preserved for both the Chinese people and the rest of the world. The Deco buildings are deteriorating and the few people left who remember that era are dying off. After 6 long, difficult years, I'm pleased to say this Shanghai Deco is finally finished.
Join our mailing list for Shanghai Deco screenings and news:
Contact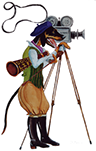 Dogs' Life Productions produces award-winning educational documentaries focusing on three main areas: art, animals, and anthropology. The company's films have been screened at festivals around the world and are used as curriculum adjuncts by many major universities in the US and Canada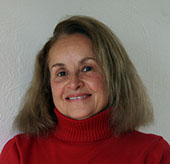 Denise Richards is a graphic designer, documentary filmmaker, artist, and educator.
Distribution:
EDUCATIONAL : Shanghai Deco is not yet available for educational licensing but other films from Dogs' Life Productions are available through Kanopy Streaming.
BROADCAST: For interest in broadcasting or showing Shanghai Deco either in the US or in territories outside of the US , please contact Denise Richards, using the form on the right.
Other Films from Dogs' Life Productions